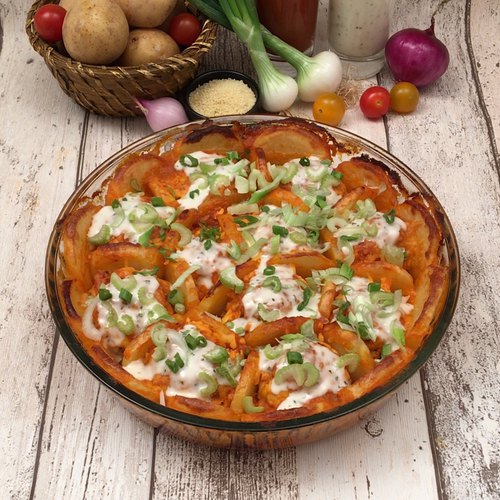 Buffalo Chicken Party Platter
A hot take on a hotdish. 🔥🍗🍴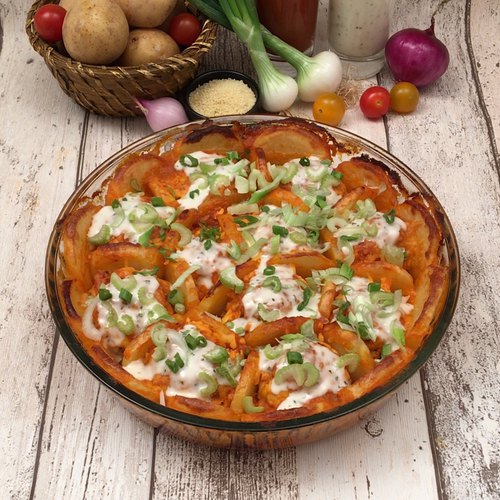 ---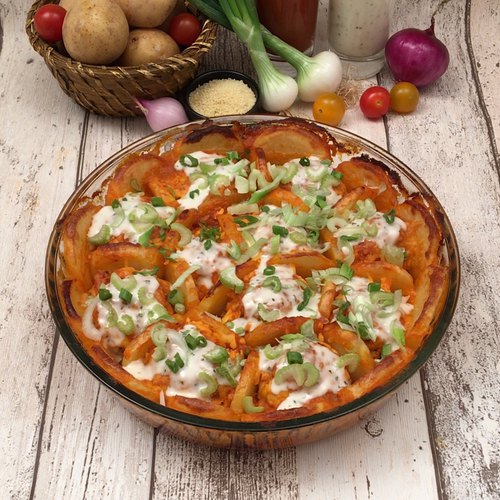 ---
Ingredients for 8 people
6 chicken breasts, finely minced
1 red onion
1/3 cup of breadcrumbs
salt & pepper
10 potato
1/2 cup of butter
1 bottle of frank's red hot sauce
parsley
ranch dressing, for garnish
chopped celery, for garnish
scallions, for ganish
---
Step 1/3
Boil potatoes, cool, and cut into even-sized rounds. Place your potato round in a pie dish, covering the sides and the bottom. Mix your minced chicken (or buy pre-ground chicken) with diced onion, bread crumbs, parsley, salt, and pepper. Set aside. In a pan, melt 1/2 cup of butter and Frank's Red Hot Sauce. Mix half of the sauce with the ground chicken and form into meatballs.
Step 2/3
Once the balls are formed, place one on top of each potato. Then slide potato slices between each meatball. Cover with the remaining buffalo sauce and top with cheddar cheese. Bake for 20 minutes, or until meatballs are cooked, at 350 °F.
Step 3/3
Once cooked, top with ranch dressing, celery, and scallions. Enjoy!