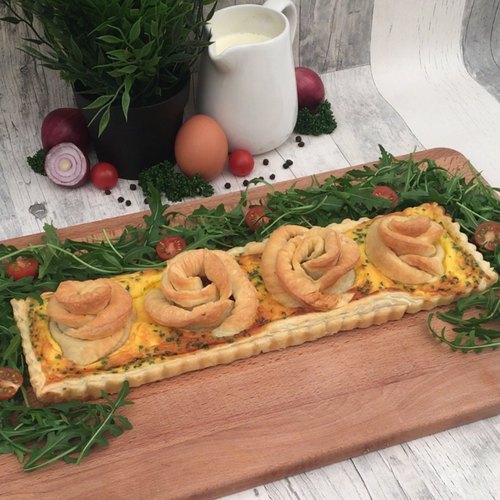 Rose Pie
A new way to bring flowers home.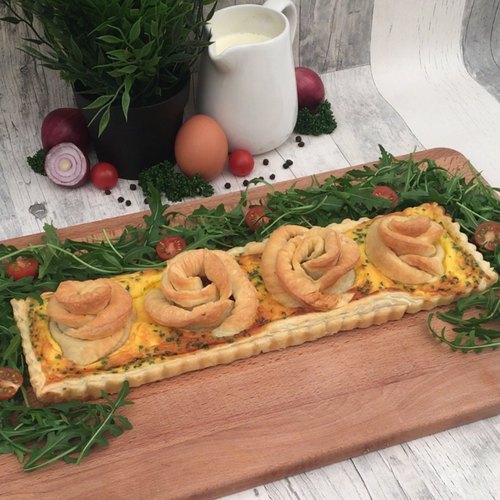 Do your allergies plague you every Valentine's Day? Don't worry; this edible arrangement will do the trick!
---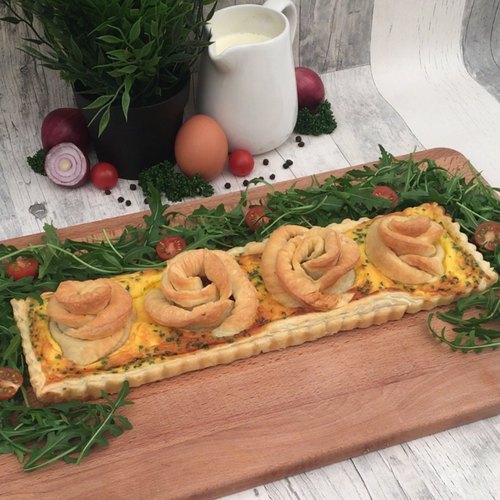 ---
Ingredients for 4 people
200 g of ground beef
1 red onion
3 puff pastries
4 eggs
1/4 cup of cream
parsley
salt & pepper
---
Tools
Chopsticks
Baking dish
---
Step 1/4
Mix the beef with the chopped onion, chopped parsley, salt and pepper. Cut 5 identical discs out of a first puff pastry and press down 2 opposite sides of each disc using the tines of a fork.
Step 2/4
Place the 5 discs in a row, so that they are overlapping and all the fork marks are facing the same direction. Form a groove in the center of the strip with a chopstick and spread half of the meat mix over it.
Step 3/4
Roll the meat-filled dough into a coil. Cut it in half and place each half upright, with the outside facing upwards. Turn the edges slightly to shape the roses. Repeat with another puff pastry. You'll have 4 roses total at the end.
Step 4/4
Place the uncut puff pastry in the baking dish and place the roses on top. Mix the eggs, cream and chopped parsley and pour this mixture into the dish. Bake for 20 minutes at 350 °F and eat hot.
Similar recipes from Chefclub
-
Our other recipes