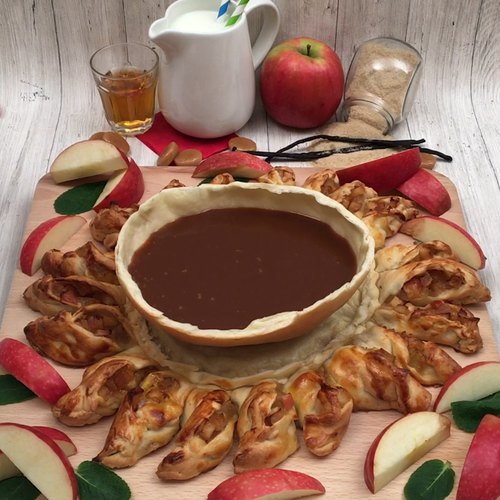 Inflatable Apple Tart
A caramel dipping frenzy 🍎😍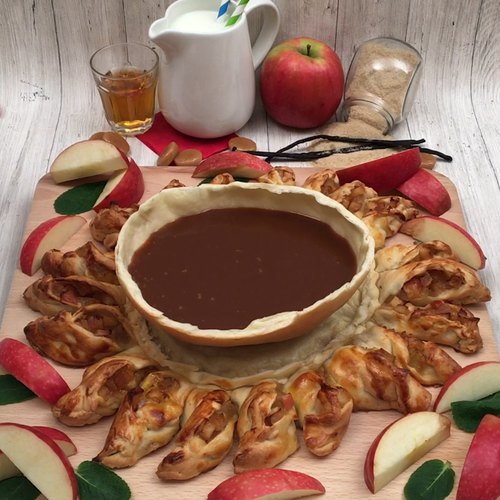 ---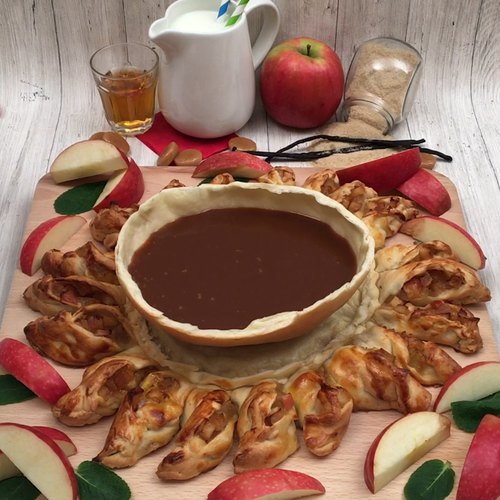 ---
Ingredients for 8 people
4 pink lady apples
6 tbsp of butter
1/4 cup of brown sugar
2 pizza doughs
3 1/2 oz of applesauce
3 1/2 oz of rum
3 1/2 oz of caramel sauce
---
Tools
Sheet pan
Parchment paper
Straws
---
Step 1/4
Dice the apples and cook them in a pan with the butter and brown sugar. Spread a ring of applesauce an inch from the edge of one of the pizza doughs on the parchment-lined sheet pan.
Step 2/4
Spread the apples on top of the ring. Place the straws on the edge of the dough, half on, half off. Cover to first dough with the second and seal with a fork.
Step 3/4
Slice the part with the apples into flaps about 1 1/2 inches wide, without cutting the center part. Turn the flaps 90 degrees to make a sun. Blow into the straws to expand the center part, close up the hole, then bake for 10 minutes at 375 °F.
Step 4/4
Remove from the oven. Light the rum on fire in a ramekin and pour it on the blown-up part of the tart. Cut this part, turn it upside-down, and fill it with caramel sauce. Enjoy the tart by dipping the apple pieces in the caramel.