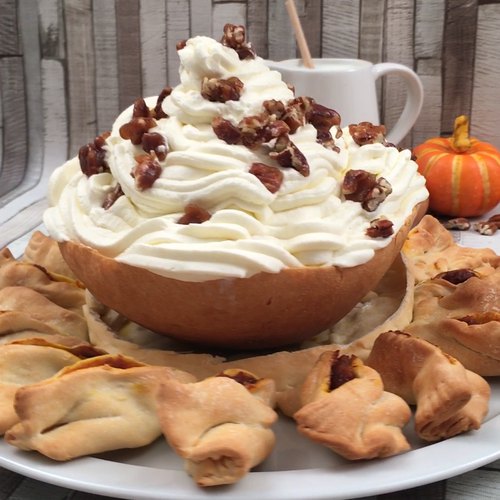 Easiest Thanksgiving Pie
No choosing favorites this year. 🖤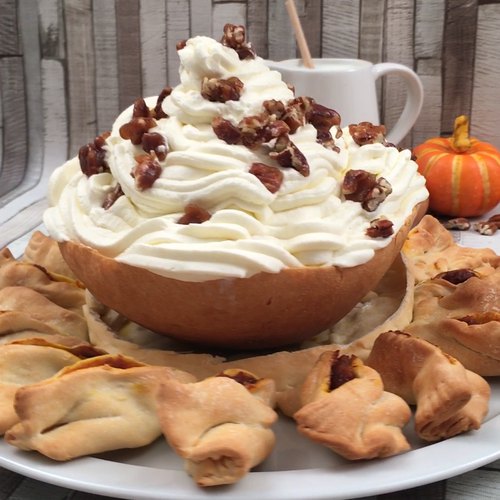 ---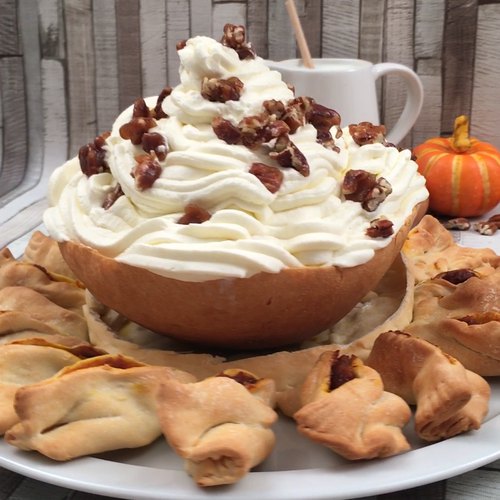 ---
Ingredients for 8 people
1 cup of pecans
1 tbsp of butter
3 tbsp of corn syrup
2 rounds pizza dough
1/2 cup of pumpkin pie purée
1 pint of vanilla ice cream
whipped cream
---
Tools
Straws
---
Step 1/3
In a pan, melt the butter and mix in the corn syrup and pecans. Cook for about 5-7 minutes until carmelized. Remove from pan and place on parchment paper to cool.
Step 2/3
Smooth the pumpkin pie purée around the edge of one round of pizza dough, leaving a 1/2-inch border. Top with the carmelized pecans, saving a few for the final garnish. Cover with the other round of pizza dough, and stick the 2 straws in the center of the dough. Use a fork to thoroughly seal the edge. Cut 1-inch slits around the pie and twist each section on its side.
Step 3/3
Bake for 20 min at 350° F. Remove from the oven, and once cooled, cut off the bubble and flip it so it becomes a bowl. Fill it with ice cream and top with whipped cream and the remaining candied pecans. Enjoy!