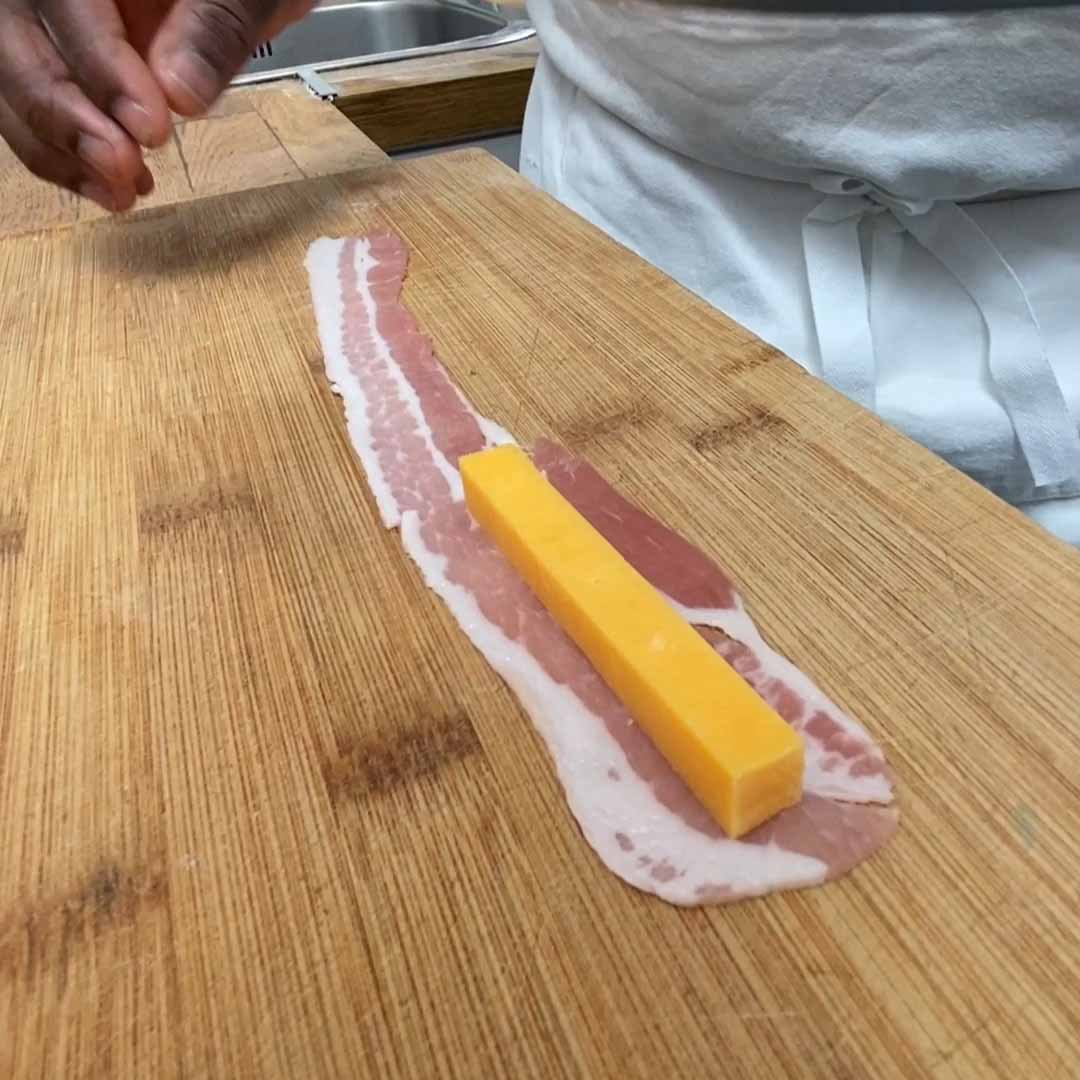 Brunch à la Française
The perfect twist on these French classics!
Total time: 60 minutes
Ingredients for 8 people
42 oz croissant dough
9 oz cheddar
8 slices bacon
1/2 cup peanut butter
1/4 cup raspberry jam
8 eggs, divided
1 tsp oregano
1/2 tsp salt, divided
1/4 tsp pepper
2 tsp dijon mustard
2 cups heavy whipping cream
4 slices sandwich bread
1 tbsp butter
4 slices swiss cheese
4 slices ham
Chives
Flour
---
Tools
Rolling pin
Glass cup
Parchment paper
Whisk
---
Step 1/5
Begin by sprinkling your work space with flour before rolling out half of the croissant dough. Cut into two long rectangular sheets of about 20 x 5 inches. Then cut small rectangular 4 inch sticks from the cheddar block and use the length of the cheese stick to divide the dough into small rectangles. At the end you should have ten 4 x 5 inch rectangles. Place the cheddar stick vertically onto a piece of bacon and fold the edges of the bacon over the cheese so that it is completely covered. Repeat until you have 20 cheddar & bacon sticks. Then, place one cheddar bacon stick on the small rectangle dough and roll so the stick is covered. Next place in a second cheddar bacon stick and complete rolling. Repeat until you've prepared 10 cheddar bacon croissants. Place on a parchment paper lined baking tray.
Step 2/5
Roll out another sheet of croissant dough. Cut into 4 large rectangles. Then make a diagonal cut into each rectangle so that you have 8 triangle dough pieces. Cut a 1 inch slit at the base of each triangle. Drizzle in peanut butter and raspberry jam using a piping bag. Roll the croissants up from the base and then place them onto a parchment paper lined baking tray. Then place both trays of croissants in the oven to let the dough rise for 20 minutes at 95°F.
Step 3/5
In a small bowl, whisk 2 eggs. Then remove the croissants from the oven and brush only the peanut butter and jelly croissants with the egg wash. Then add in oregano, pepper, 1/4 tsp salt, and dijon mustard into the egg wash and mix. Next, brush the bacon cheese croissants with this egg mixture. Place both croissant trays in the oven again and bake for 20 minutes at 350°F.
Step 4/5
In a large bowl mix 4 eggs, 1/4 tsp salt, a pinch of pepper, and heavy whipping cream with a whisk. Place 4 sandwich bread slices on a cutting board and using a glass cup, cut out a circle in the center of two of the slices. Dunk the slices into the batter. In a frying pan over medium heat, melt the butter and grill the bread slices. Flip over after a few minutes. Add an egg into the two bread slices with a hole. Top the other bread slice with alternating layers of swiss cheese and ham. Place the bread slice with the egg on top of the ham and cheese slice. Place the two finished sandwiches on a baking tray and bake for 5 minutes at 300°F.
Step 5/5
Sprinkle the peanut butter and jelly croissants with powdered sugar. Serve both of the croissants and the egg, ham, & cheese sandwiches on plates. Sprinkle the egg sandwiches with chopped chives and enjoy. Bon appétit !