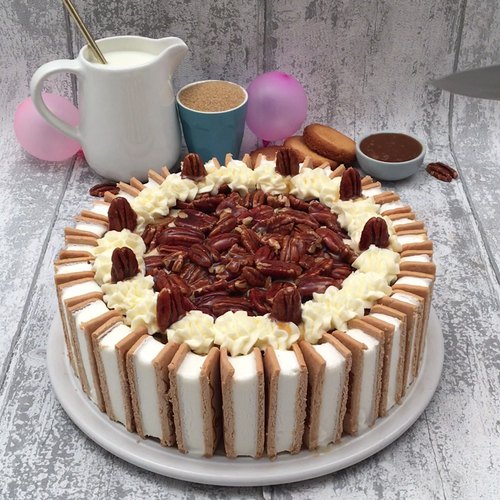 Pecan Pie Ice Cream Cake
How thankful are you for this recipe?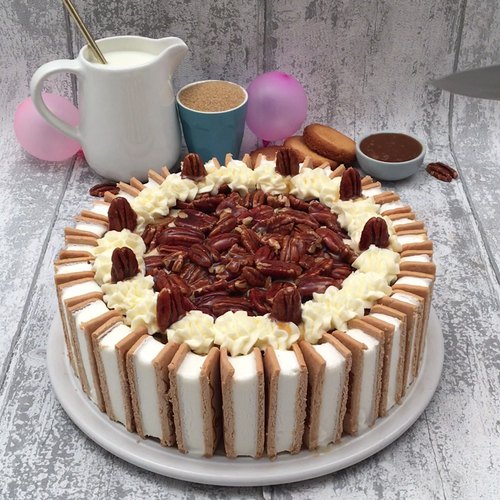 ---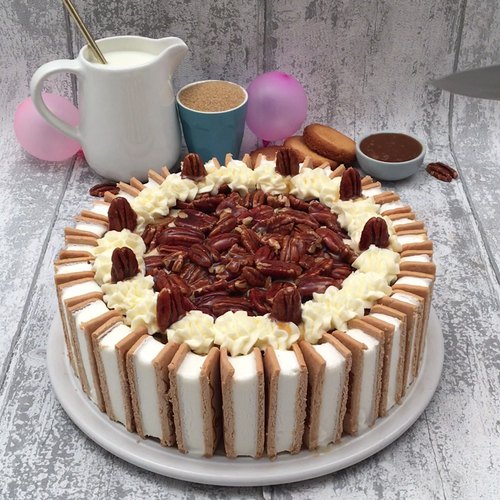 ---
Ingredients for 6 people
16 ice cream sandwiches
20 shortbread cookies
1 cup of brown sugar, divided
1 cup of butter, divided
2 tbsp of cinnamon
5 cups of pecans
1 1/2 cups of heavy cream
2 pints of vanilla ice cream
whipped cream
cranberry sauce
---
Step 1/3
Cut ice cream sandwiches in half (if taller than your springform pan, cut into quarters). Place around the springform pan in a tight ring, with the cut side facing out. Note that you should place the cake in the freezer whenever not actively working on it to avoid melting. In a medium bowl, add crushed shortbread cookies, 1/4 cup brown sugar, 1/2 cup butter. Mix until combined and press into the bottom of the pan. Place in the freezer.
Step 2/3
In a sauce pan, mix together remaining brown sugar and butter. Add pecans and heavy cream. Mix until a caramel starts to form and take off heat. Remove cake from freezer and place 1/3 of the pecans on the shortbread crust. Spread 1 pint of vanilla ice cream over the pecans. If the ice cream is melting place back in the freezer, otherwise continue with another third of pecans, followed by another pint of vanilla ice cream. Place the final third of pecans on top and place in the freezer until solid, about 4 hours up to overnight.
Step 3/3
Remove cake from freezer and create a boarder with whipped cream, decorate with pecans, and remove the springform pan. Serve with cranberry sauce and enjoy!