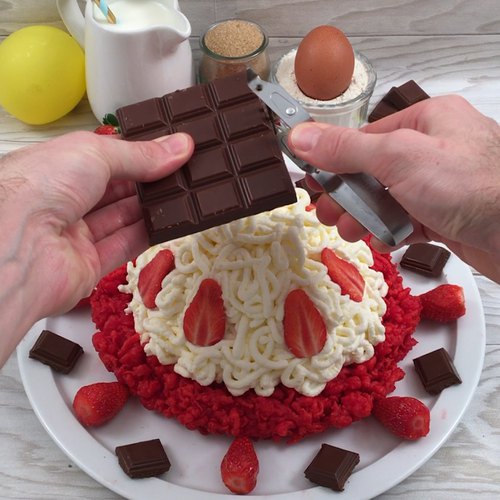 DIY Funnel Cake
No State Fair needed to bring this epic dessert to life! ❤️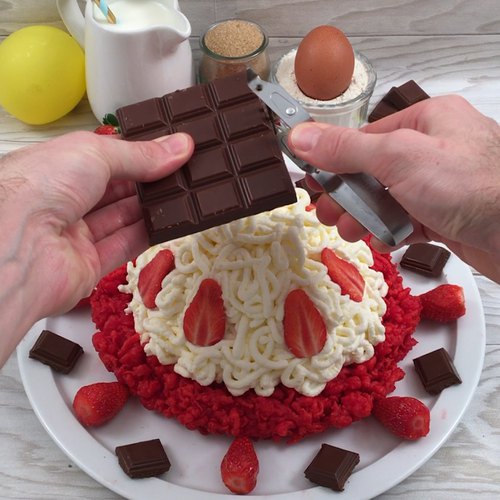 ---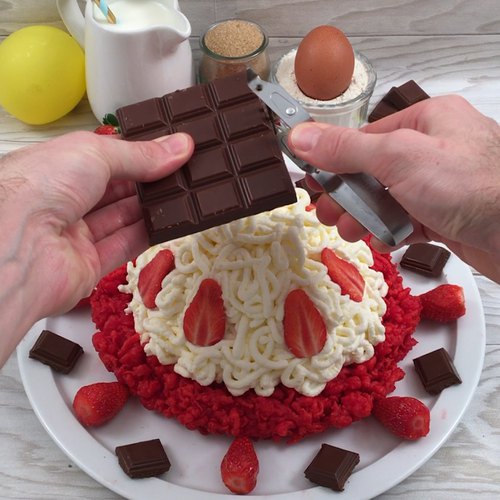 ---
Ingredients for 4 people
2 eggs
1 cup of milk
1 cup of water
1/4 tsp of vanilla extract
3 cups of flour
1/4 cup of and 1/3 cup sugar, seperated
3 tsp of baking powder
3 tsp of red food coloring
1 1/2 cups of whipped cream
1 package of (8 oz) cream cheese
chocolate, for shaving
strawberries, for garnish
---
Tools
Pringles tube, cleaned and dried
Wine opener
Orange
Rolling pin
---
Step 1/3
Mix dry ingredients - flour, salt, baking powder, sugar - set aside. In a bowl combine eggs, milk, vanilla. Fold drys into wet then add food coloring.
Step 2/3
In the bottom of the Pringles tube, poke holes with a wine opener. In a high-sided pan, heat oil. Fill Pringles tube with funnel cake batter then, when oil is hot, pour the batter into oil. The batter is fairly liquid, so you can use the Pringles lid to stop the batter from coming out before you are ready. Fry until golden. Remove and drain excess oil.
Step 3/3
In a bowl mix heavy whipping cream, cream cheese, and 1/3 cup sugar. Beat until stiff peaks form. Use the same Pringles tube (cleaned and dried) or another one. Fill with whipped cream mixture then place orange in tube and press down with a rolling pin. Decorate the funnel cake with the whipped cream. Add chocolate shavings and strawberries as a garnish. Enjoy!