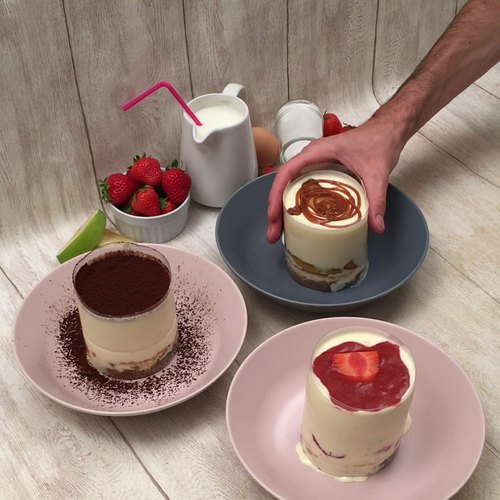 Tiramisu Mudslide
Tiramisu Mudslide! Grab a spoon and start digging.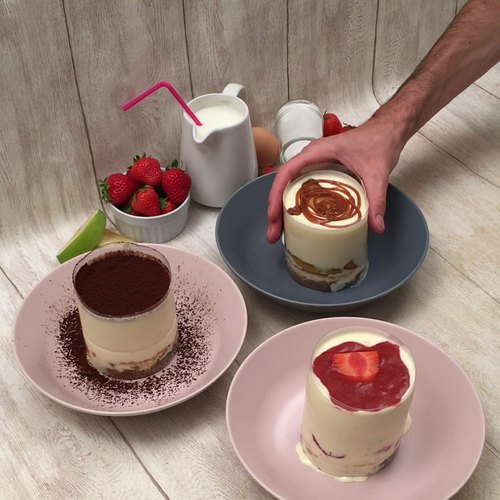 ---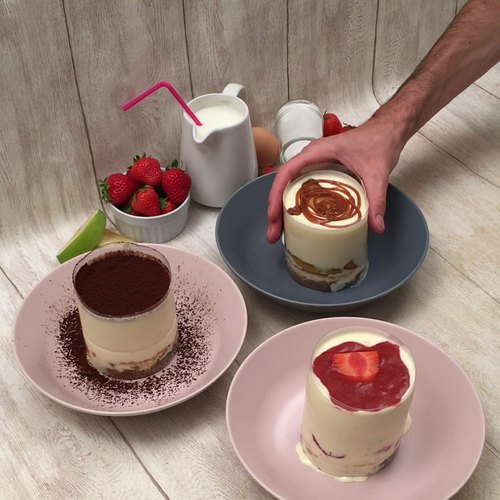 ---
Ingredients for 3 people
8 eggs
1 2/3 cups of sugar
1 3/4 cups of flour
1 fl oz of coffee
1/4 cup of cocoa powder
8 4/5 oz of mascarpone cheese
mixed berry sauce
caramel
apples
strawberries
---
Tools
Plastic bottle
Electric hand mixer
Baking dish
Deep plates
---
Step 1/4
Cut 3 identical 2 inch tall cylinders from the plastic bottle. Beat 6 eggs with 1 cup sugar and add the flour. Pour this mixture into the baking dish and bake for 15 minutes at 350 °F.
Step 2/4
Use the plastic cylinders as cookie cutters to cut 3 discs from the cake. Leave the cake discs at the bottom of the cylinders. Dip the bottom of the discs in cold coffee and place each cylinder on a plate.
Step 3/4
Add chopped strawberries to one cylinder and cooked apples to another. Mix the remaining eggs and sugar with the mascarpone and divide the mixture between the 3 cylinders.
Step 4/4
Add mixed berry sauce and a strawberry to the the strawberry tiramisu, a slice of cooked apple and caramel to the apple tiramisu, and cocoa powder to the last one. Remove the plastic cylinders so the cream runs and enjoy!