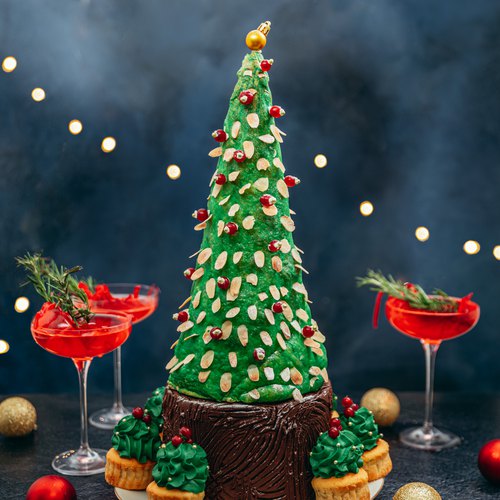 Christmas Cake & Cranberry Cocktail
Christmas Cake & Cranberry Cocktail! It's tree-mendously delish' 🎅🎄🍸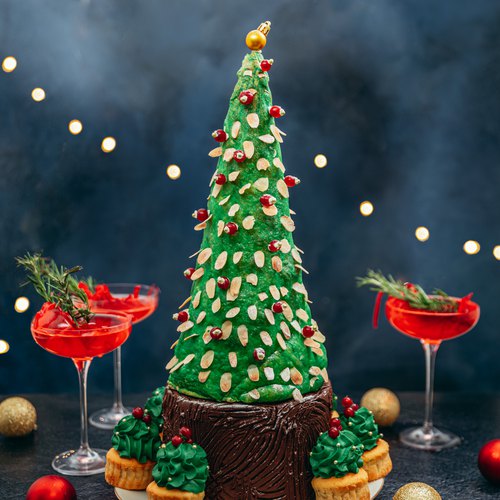 ---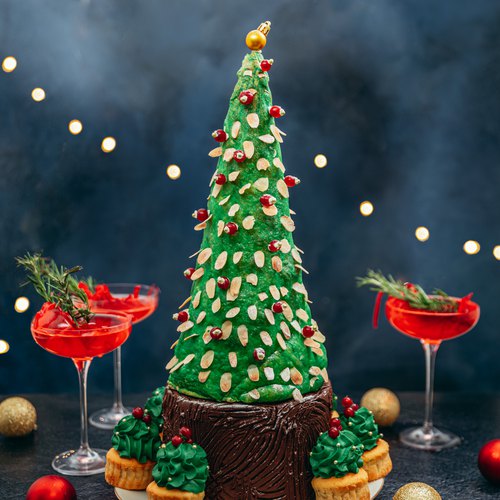 ---
Total time: 6 hours 20 minutes
Prep time: 5 minutes, Cook time: 15 minutes, Rest time: 6 hours
Ingredients for 4 people
1 pizza dough
1 chocolate sponge cake
35 oz of chocolate ganache
12 vanilla cupcakes
6 cups of buttercream frosting
8 tsp of green food coloring
20 red jolly ranchers
Rosemary
12 candy canes
2 cups of candy cane infused vodka
1 cup of sliced almonds
Mixed berries
Gold sprinkles
---
Tools
Balloons
Foil
---
Step 1/4
Roll your pizza dough around a foil cone. Spray with green food coloring. Add sliced almonds at an angle and bake at 350°F for 15 minutes.
Step 2/4
Cut chocolate sheet cake into 4 even strips, pipe vanilla butter cream on each piece, and then roll into a log. Refrigerate. Frost the roll with chocolate ganache. Use a fork to create wood grain and swirly patterns. Set aside.
Step 3/4
Pipe buttercream on cupcakes. Decorate with 3 red berries and sprinkles. Place cupcakes on top of tree trunk. Place pizza dough Christmas tree on top of cupcakes to cover them.
Step 4/4
Melt jolly ranchers. Blow up balloons the size of a cocktail glass. Dip balloon in melted jolly ranchers and allow to set. Place candy canes in vodka and allow to infuse 6 hours. Pop the balloons and place the jolly rancher ornaments in glasses. Pour the infused vodka inside and garnish with rosemary. Serve with cake and enjoy!