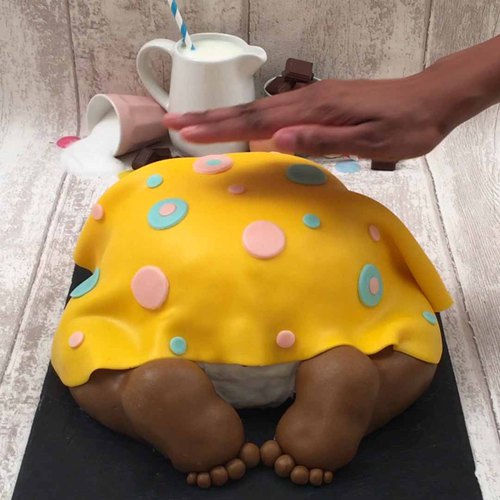 Baby Shower Cake
Get ready to cherish every moment 😍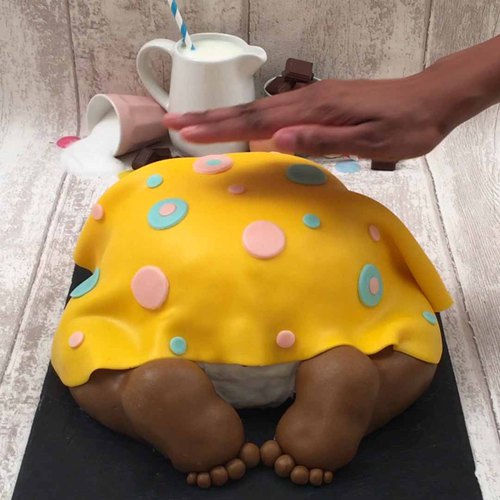 ---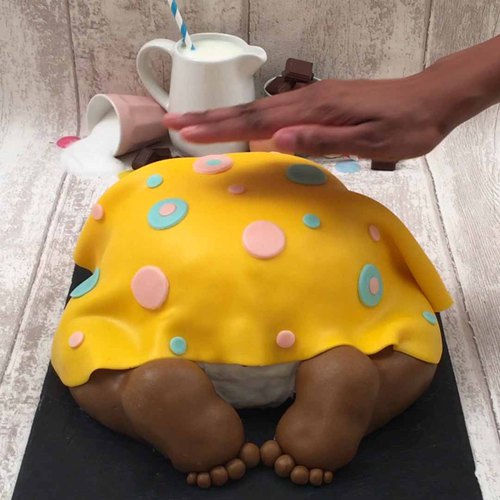 ---
Ingredients for 6 people
chocolate cake mix
buttercream frosting
chocolate ganache
chocolate pudding
1 package of mini marshmallows
6 cups of powdered sugar
crisco
food coloring
---
Tools
Metal bowl
Air pump
---
Step 1/5
Bake a chocolate cake according to package instructions in a metal bowl. The cake may need to be cooked longer than indicated. Let cool, then unmold. Cut the cake in half horizontally and add a layer of buttercream. Place the top of the cake back on and cut a hole in the center. Remove the cake from the hole and set aside. Coat the center with chocolate ganache. Fill the hole with chocolate pudding and place the top back on. Chill.
Step 2/5
Add a small amount of buttercream to the extra cake and mix until the icing is all incorporated. Form legs and feet with the cake pop mixture and place on the cake. Crumb coat the entire cake with more buttercream and chill.
Step 3/5
Make the marshmallow fondant by melting the marshmallows with 4 tablespoons of water at 30 second intervals in the microwave. Repeat until all of the marshmallows are melted. Add powdered sugar 1 cup at a time to the melted marshmallows until you have a thick fondant. Knead well, adding a little Crisco if necessary. Knead in desired food coloring. Cover with plastic and set aside.
Step 4/5
Roll out the skin-colored fondant cover the legs and feet with it. Roll out white fondant and cover between the legs to form the diaper. Roll out the yellow fondant and cover the baby, leaving the legs exposed. Decorate the blanket with pink and blue dots made from the fondant.
Step 5/5
Cut a hole where the "poop" will come out. Insert a clean air pump in the opposite end of the hole and use it to make the baby have a "blow out!"