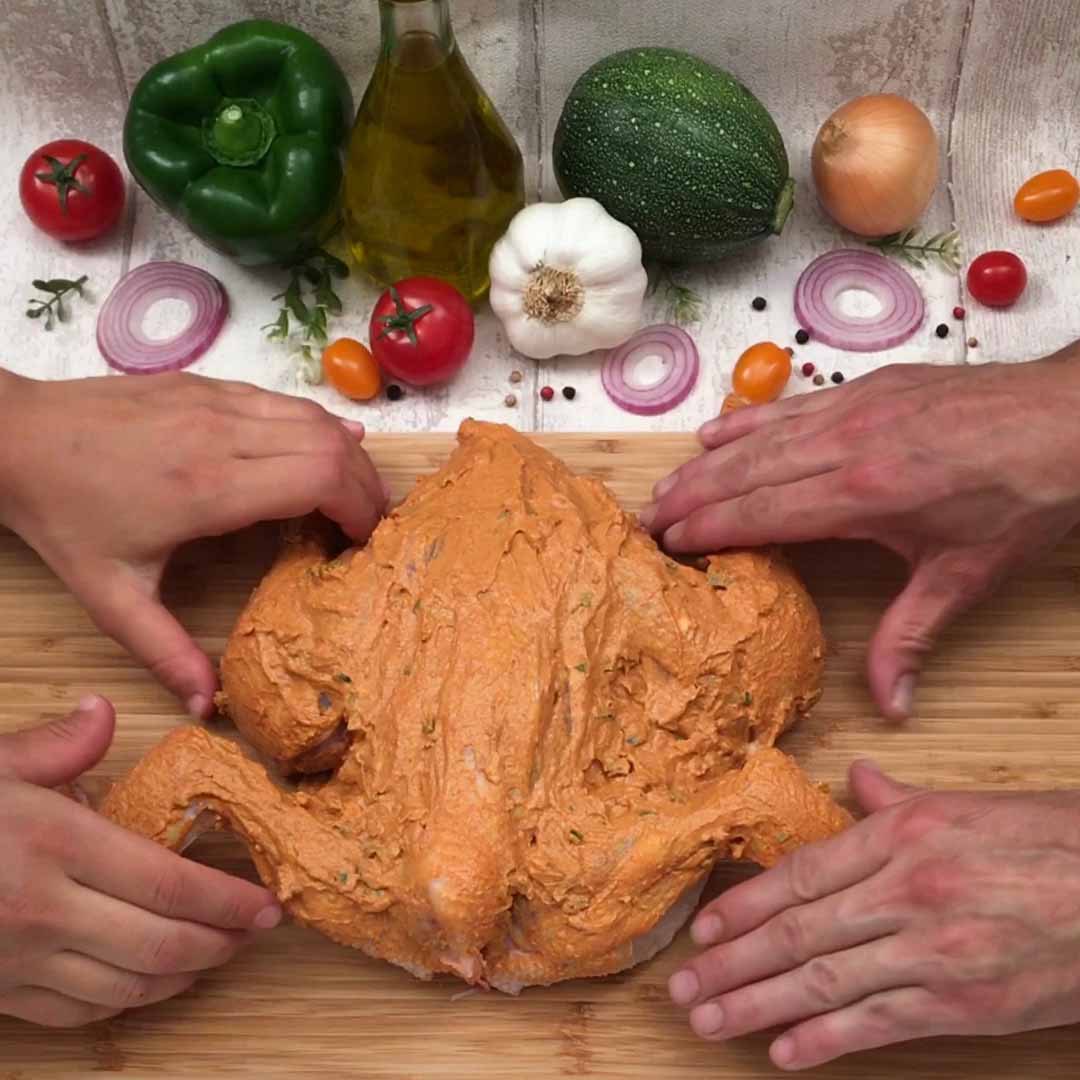 Smokey Butter Chicken
Easier than takeout! 😎🍗❤️
Total time: 60 minutes
Ingredients for 4 people
Olive oil
1 1/4 cups rice
salt & pepper
2 cups water
Cherry tomatoes
Red onion
1 cup Greek yogurt
1/2 cup butter
2 jalapeños, chopped
1 tbsp ginger, minced
1 tsp garam masala
1 tsp chili powder
1 tsp cumin
Salt, to taste
1/4 cup heavy cream
1 whole chicken, spatchcocked
Cilantro, for garnish
---
Tools
Foil
Skewer
Apple wood
---
Step 1/4
Cover the bottom of an oven-safe dish with oil, cover with rice, then season with salt and pepper. Pour 2 cups of water over rice and top with cherry tomatoes and onions. Place foil tightly over the dish and poke holes in the foil with a skewer.
Step 2/4
In a mixing bowl, add Greek yogurt, butter, jalapeños, ginger, garam masala, chili powder, cumin, salt, and heavy cream. Make a few insistions on the skin of a spatchcocked chicken, then spread the sauce over the skin. (If you have time, you can do this step 2 hours, up to 1 day ahead of time and let the chicken marinate with this sauce).
Step 3/4
Place the chicken skin up on top of the foil and bake for 45 minutes at 350 °F, until the thickest part of the chicken is 165 °F. Remove from oven and light a small piece of apple wood on fire, place it next to the chicken and cover the whole dish with a glass bowl. Let the chicken sit in the smoke until it starts to die down. Serve chicken with the rice.
Step 4/4
NOTE: If your butcher is unable to spatchcock your chicken, use kitchen shears to cut out the back bone then pull apart the chicken and place skin-side up.