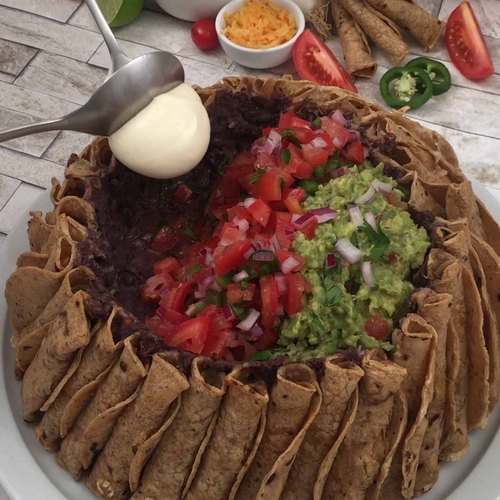 Taquito Casserole
7-layer dip stuffed taquitos anyone!? 🙋🏼‍♀️🙋🏿‍♂️🙋🏽‍♀️🙋🏻‍♂️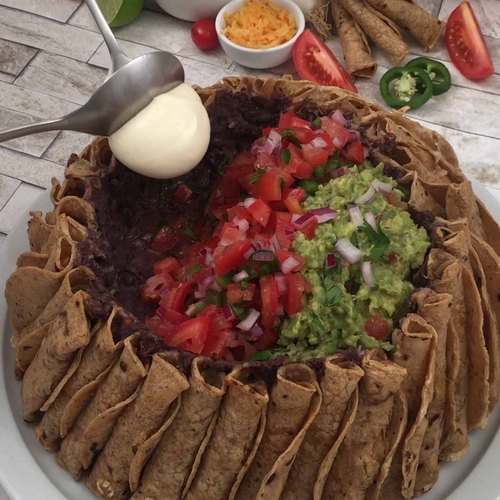 ---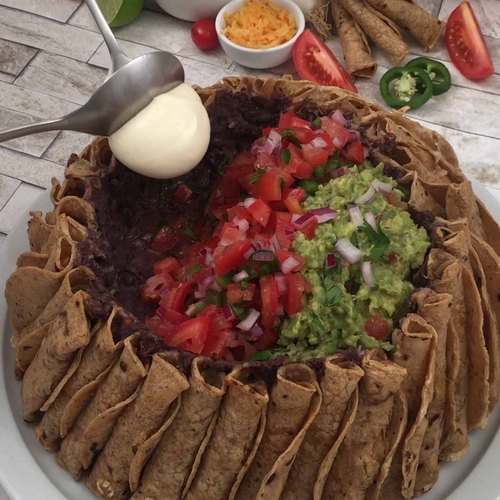 ---
Ingredients for 8 people
2 rotisserie chickens, shredded
4 cups of taco blend shredded cheese
3 tbsp of chefclub tex-mex mix
salt, to taste
lime juice
3 packages of corn tortillas
3 cups of refried beans
gaucamole
pico de gallo
sour cream
black olives
scallions
---
Tools
Large oven-safe bowl
Small oven-safe bowl
---
Step 1/4
Shred the chicken with a fork, season with a pack of taco seasoning, salt and pepper. Add shredded cheese and mix together. Set aside.
Step 2/4
Layer the tortillas between damp paper towels and place in a ziplock bag. Microwave for 2 minutes and allow to steam for a couple of minutes out of the microwave. Add a small amount of the chicken filling to the edge of the tortilla and roll tightly. Repeat until you have enough taquitos to fill a large bowl. Approximately 25.
Step 3/4
Place a small bowl upside down inside the large bowl and place the taquitos tightly around the edge of the large bowl. Cover the smaller bowl with a layer of refried beans, a layer of cheese and a layer of shredded chicken. Cover the top of the taquitos with tortillas, place a cooling rack over them and flip the bowl upside down. Bake at 350 °F for 20 minutes.
Step 4/4
Allow the taquitos to cool before flipping and removing the bowls. Fill the center with guacamole, sour cream and salsa. Garnish with black olives, cheddar cheese and green onions. Enjoy!