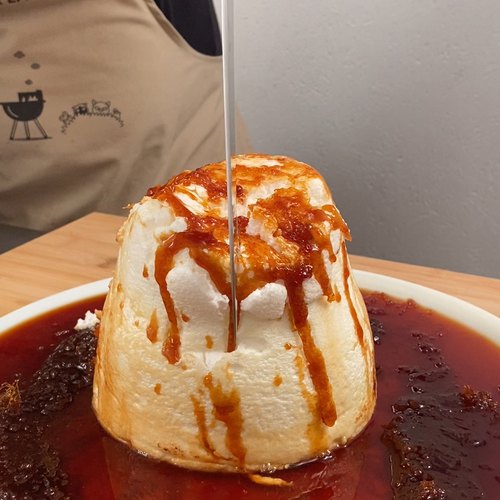 Caramel Cloud
A fluffy dream of meringue and cream!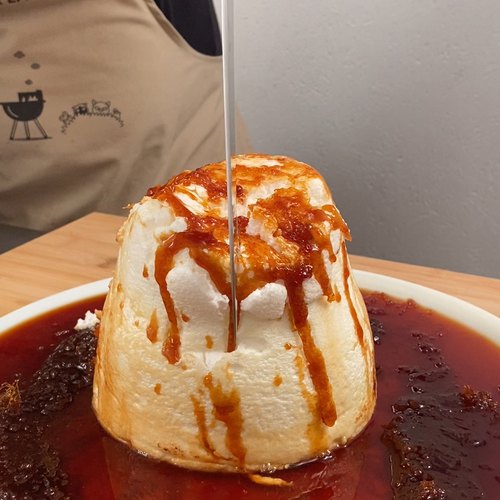 ---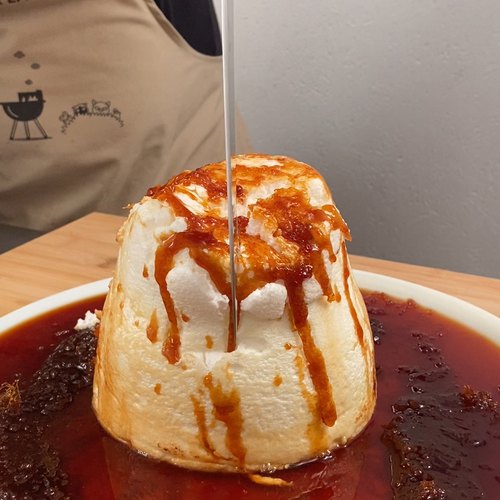 ---
Ingredients for 4 people
7 eggs
1 vanilla bean
sugar
vodka
custard
---
Tools
Small ramekins
Champagne bucker
Mixing bowl
Skewers
Big jar
Plate
Lighter
---
Step 1/4
Pour custard into the 3 ramekins, then place in the freezer.
Step 2/4
Whisk the egg whites until stiff, adding 2/3 cups of sugar. Remove the small custard from the molds. Fill the champagne bucket halfway with the egg whites, then put the custards in the middle. Cover with the rest of the egg whites until the bucket is full. Place the bucket in the mixing bowl with water at the bottom. Bake for 6 minutes at 350 °F. Remove the bucket from the oven and turn it out onto a plate.
Step 3/4
Melt the remaining sugar with 2 1/2 cups of water to obtain a caramel. Immerse the bottom of the pan in cold water to cool the caramel. Use the kitchen drawers to secure the skewers horizontally. Place parchment paper on the floor under the skewers. Dip the end of a fork into the caramel, then move it quickly back and forth over the skewers creating silky strands. Cover the upside down jar with these strands.
Step 4/4
Unmold the meringue, then place the caramel strands around it. Use a plate to pack it gently around the meringue. Heat the vodka in the pan, then use a lighter to set it aflame. Pour the burning alcohol on the caramel nest to melt it. Enjoy!
Similar recipes from Chefclub
-
Our other recipes