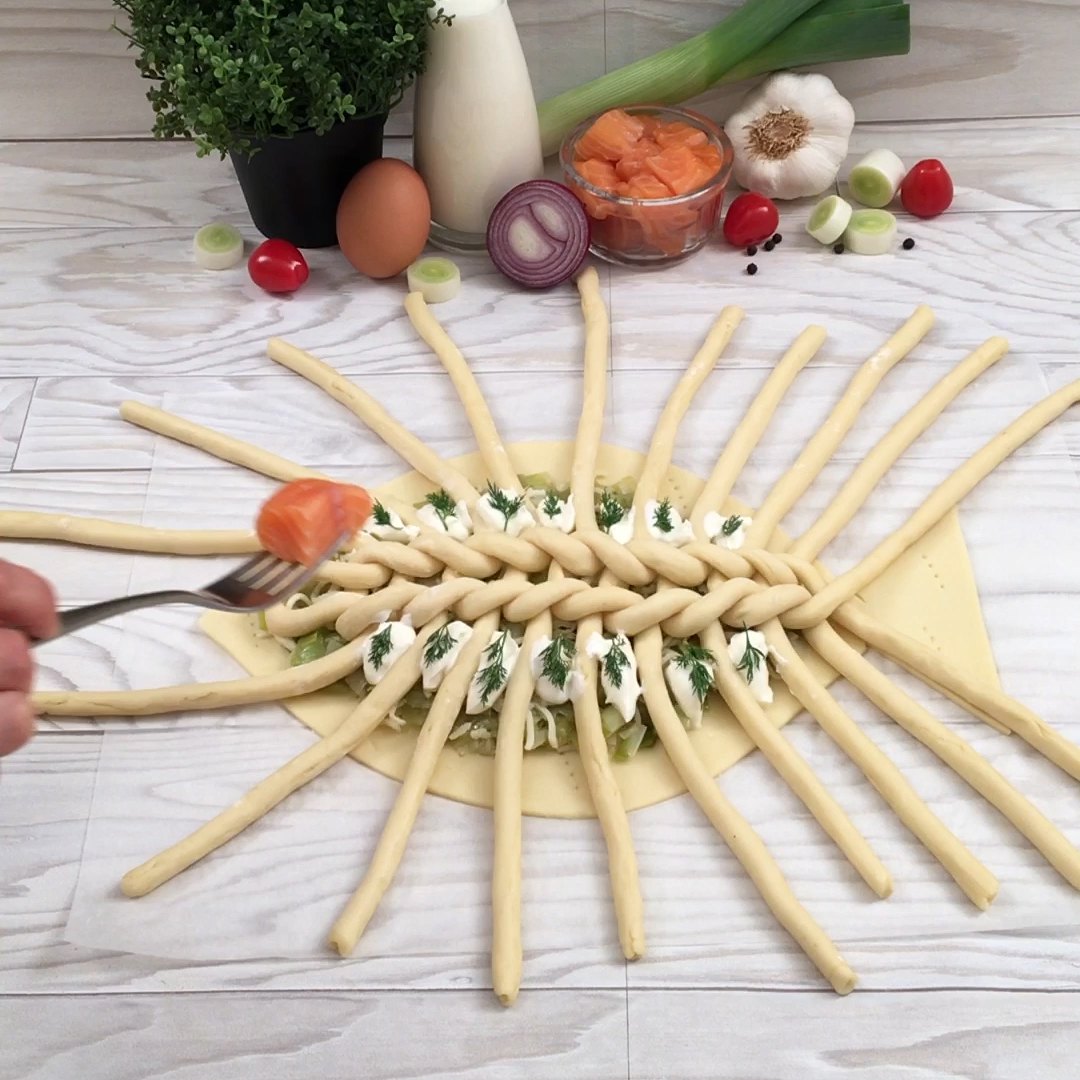 Braided Salmon Dinner
Let's get knotty! 🐟
Made by you!
Ingredients
2 sheets puff pastry
1 leek, chopped
1/2 cup grated mozzarella
4 oz sour cream
4 slices of salmon, cut into strips
1 egg yolk, beaten
Dill, for garnish
Cherry tomatoes, for garnish
Olive oil
Salt, to taste
Pepper, to taste
Tools
Pastry brush
Parchment paper
1. Cut the shape of a large fish in 1 sheet of the puff pastry and prick with a fork. Chill.
2. Cut 10 strips of equal size in length of the second sheet of puff pastry. Roll each strip into thin ropes and arrange each strand 1/2 inch apart. Form a loop in the center of the first strand and pull the center of the second strand through the first loop to create a new loop. Pull the center of the third strand through the second loop to create a new loop. Repeat these steps with all of the strands so that they are all hooked together by the center. Chill.
3. In a pan, sautée the leeks with a drizzle of olive oil, salt and pepper. Place cooled leeks in the center of the second sheet of chilled puff pastry. Sprinkle with grated mozzarella and place the looped puff pastry on top and spread each strand 1 inch apart. Add a teaspoon of sour cream between each strand and sprinkle with dill. Add 1 slice of salmon on top of each section, and brush the puff pastry with a little water.
4. Roll each strand inward and brush lightly with egg wash. Add the cherry tomato in the center of the head to resemble the eye of the fish. Place the fish on a baking tray lined with parchment paper and bake for 15 minutes at 350°F. Cut into slices. Enjoy.
Similar recipes from Chefclub