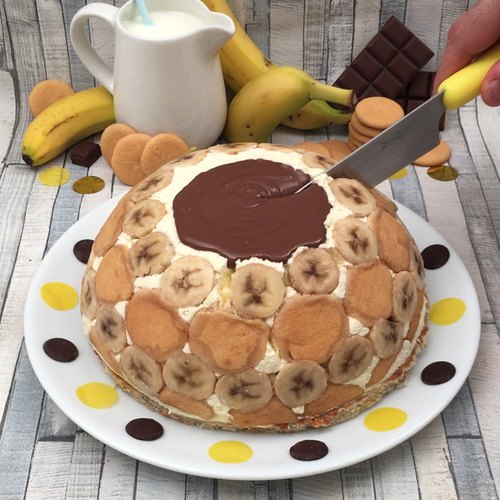 Volcanic Banana Pudding
Can you handle the ooze?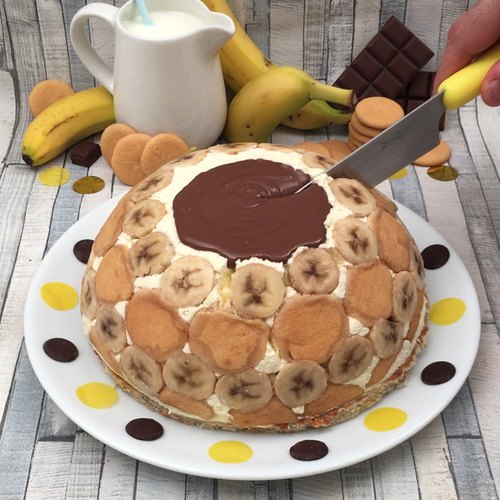 ---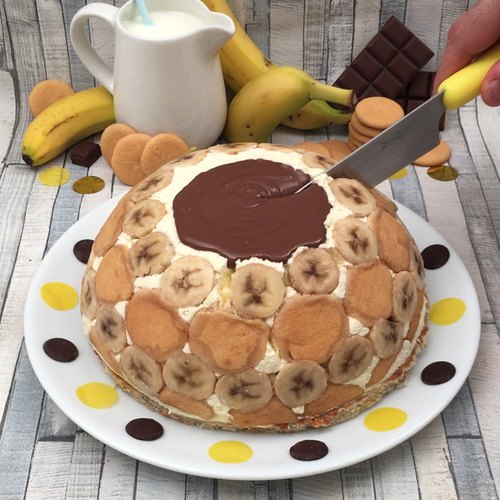 ---
Ingredients for 8 people
1 recipe banana bread, baked in a 9x9 pan
3 bananas
1 box of nilla wafers
1 pack jello banana pudding
2 cups of milk
2 cups of whipped cream
2 cups of chocolate hazelnut spread
---
Step 1/3
Place your glass bowl on your pre-made banana bread and cut out the shape of the bowl. Set aside. Line a large glass bowl with plastic wrap. In alternating rows, place banana slices and Nilla Wafers along the edge of the bowl until you reach the top.
Step 2/3
In a separate mixing bowl, combine 1 package of instant pudding mix with 2 cups of milk and mix together. Let it solidify for 5 minutes. Then, mix pudding with whipped cream until well combined (this step can be done by hand or with an electric mixer). Spread the whipped pudding mixture into the bowl, stopping half-way to make a layer of banana slices and Nilla Wafers. Cover with the remaining whipped pudding mix and put in the fridge for 1 hour up to overnight.
Step 3/3
When you remove the pudding from the fridge, place the banana bread on top, place a serving dish on top of the banana bread and flip over. Gently remove plastic wrap. Heat up a ladle with a lighter and press it into the pudding at what was once the bottom of the bowl. Pour chocolate hazelnut spread into the cavity. Cut and serve.