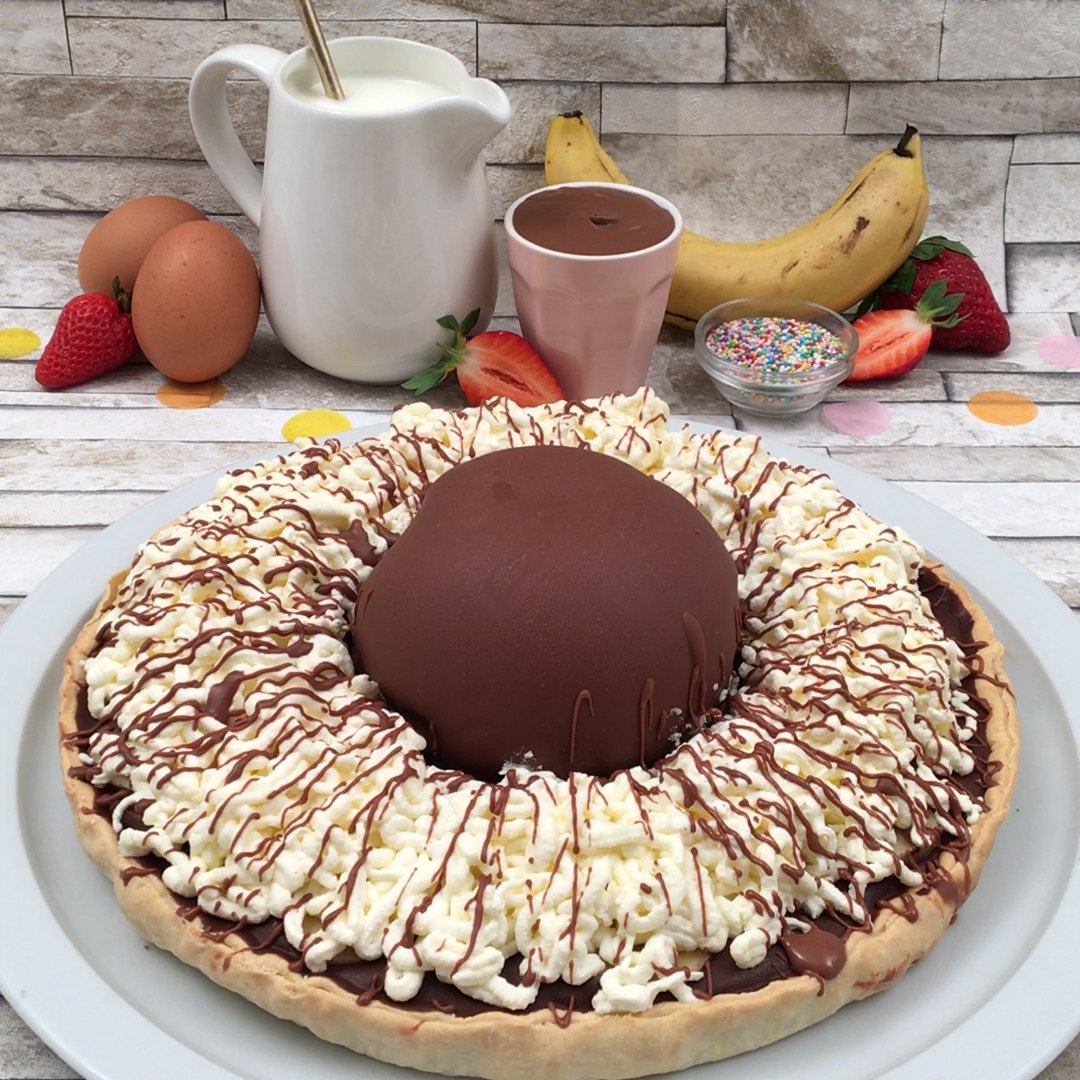 Choco-Banana Pie à la Mode
This is what dessert dreams are made of!
Ingredients
1 pie dough
2 cups heavy cream
1 cup dark chocolate
1/2 stick of butter
3 bananas
Chefclub vanilla ice cream
1 1/2 cup melted milk chocolate
1/2 cup mascarpone cheese
1/2 cup powdered sugar
1 whole vanilla bean, scraped
Caramel sauce
Tools
Pie plate
2 small bowls
Plastic wrap
Ziplock bag
1. Fit the pie crust in the pie plate and cover with pie weights to prevent crust from rising while baking. Bake for 20 minutes at 375 °F. Pour 1 1/2 cups of heavy cream into a sauce pan and bring to boil. In a separate bowl pour the hot cream over dark chocolate. Mix until the chocolate is melted then add butter. When pie crust is ready, place one of the small bowls upside down in the center of the crust. Pour melted chocolate in the crust around the bowl.
2. Cut bananas in half lengthwise and then crosswise. Arrange each banana in the chocolate around the bowl. Refrigerate for 30 minutes. Line the second small bowl with plastic wrap then fill vanilla ice cream and place it in the freezer.
3. Using a fork, pierce holes in one of the corners of the Ziplock bag. Make whipped cream by whipping mascarpone, powdered sugar, the remaining heavy cream, and the scraped vanilla bean. Fill the Ziplock bag with whipped cream. Remove the upside down bowl and cover the chocolate with the whipped cream.
4. Unmold the ice cream and dip in melted milk chocolate. Place in center of the pie, in place of the small bowl. Drizzle the remaining milk chocolate over the whipped cream. Pour caramel sauce over the chocolate covered ice cream. Cut yourself a slice and enjoy!
Similar recipes from Chefclub