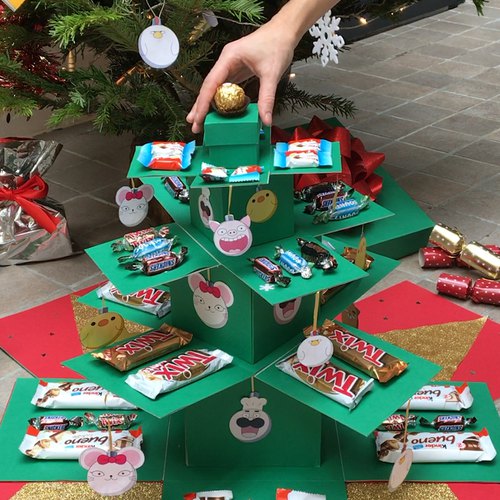 Build Your Very Own Surprise Christmas Tree
This time the presents are inside the tree! 🎄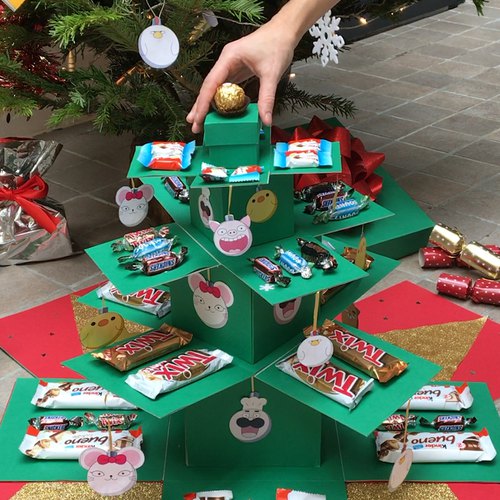 ---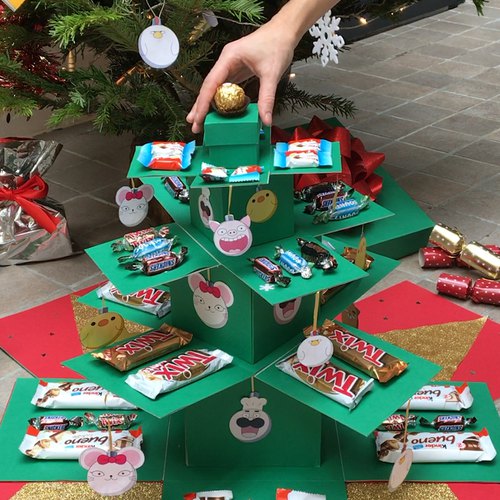 ---
Ingredients for 4 people
8 chocolate ®
mini chocolate candies
8 twix ®
8 mini chocolate ®
1 ferrero rocher ®
---
Tools
Card stock paper
Green card stock paper
Red card stock paper
Tape
Glue
Chefclub templates
Money
---
Step 1/4
Download the template.
Attach 5 sheets of 23 x 23 cm card stock with tape to form a cross shape. Glue green sheets of the same size on top. Turn the cross over and cover the other side with red card stock. Glue long strips of green paper in the middle of the 4 red end sheets. Turn the cross over again and glue 2 chocolate ® on each green end sheet. Glue mini chocolates between the chocolate.
Step 2/4
Intersect and glue together 2 sheets of 51 x 17 cm card stock. Slightly indent the intersections of the 2 sheets with a knife to fold them. Fold a small strip of paper in half lengthwise and fold 1 cm from the ends. Add a dot of glue to one end and glue it to the center of the paper cross. Repeat with a second small strip and glue it facing the first, lengthwise. Add a dot of glue to the facing-up ends of these strips and glue a 48 x 16 cm sheet to it. Glue a new 48 x 16 cm sheet on top crosswise. Cover this cross with green paper and glue 2 Twix ® onto the 4 ends. Fold the sides up to form a box and attach the sides with adhesive tape. Cover the outside of the box with green paper.
Step 3/4
Print and cut out the Chefclub templates. Glue each of the 4 large characters to pieces of ribbon. Build new boxes the same way as the others with 39 x 13 cm and 36 x 12 cm card stock, and glue mini chocolates inside of these boxes instead of Twix. With the double-sided templates, fold and glue ribbon to them, and put them behind the green paper on the inside of the boxes. Build another new box the same way with 27 x 9 cm and 24 x 8 cm paper, and glue mini chocolate chocolates inside.
Step 4/4
Place money in a very small box with a Ferrero Rocher glued to the top. Glue the bottom of this box to the bottom of the next smallest box. Glue the smallest box to the bottom of the medium box and the medium to the bottom of the large. Close the large box with a lid and place it in the middle of the large cross with the chocolate. Fold up the sides of this cross to form a new box and hold it together with a lid. Place this box on an even larger cardboard cross and use a lid to keep this box together as well. The sides will fall when the first 2 boxes are opened. Then, pull the small Ferrero Rocher box up to reveal the tower of treats!