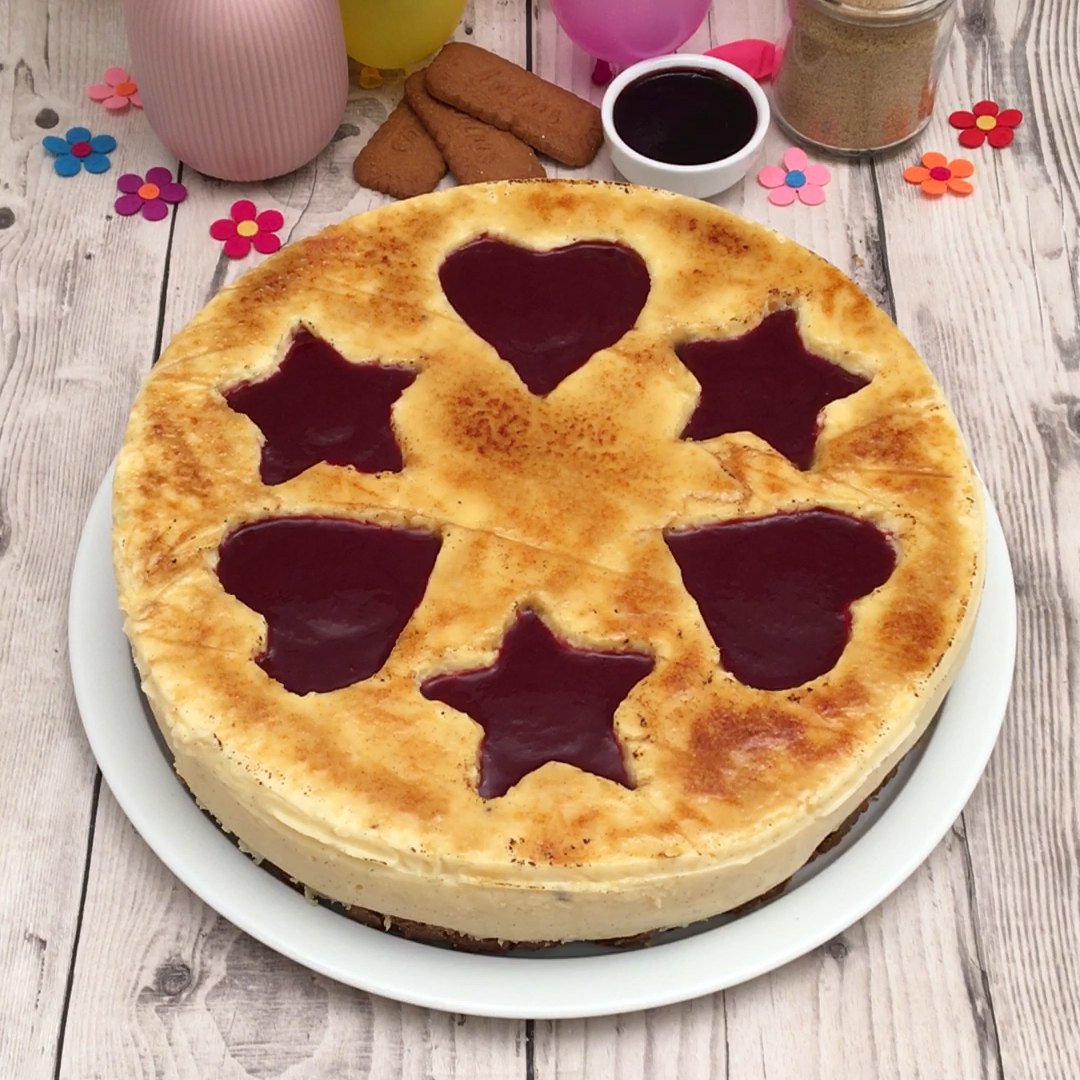 Crème Brûlée Cheesecake
One heart you won't regret breaking! ❤️
Total time: 25 minutes
Ingredients for 6 people
1 3/4 cups speculoos cookies
1/3 cup butter
3 1/3 cups milk
10 egg yolks
1/3 cup sugar
1/2 cup cornstarch
2 vanilla beans or 2 tsp vanilla extract
Strawberry sauce
Raw sugar
---
Tools
1 plastic bottle
Tape
Foil
Parchment paper
Kitchen torch
1 9-inch springform pan
---
Step 1/4
Cut 6 cylinders 2-inches wide from the bottle, folding 3 into a heart and 3 into a star, making a notch in each and then fixing them with adhesive tape. Place each shape on a sheet of foil, fill them with rice and then wrap them in foil to fit snugly. Place the 6 shapes in the springform pan covered with baking paper.
Step 2/4
Mix the egg yolks, sugar, and scraped vanilla beans. Then add the cornstarch. Bring the milk to the boil then turn off the heat. Pour a little into hot milk into the egg mixture (to temper it) then pour this mixture into the remaining milk in the pan over low heat and stir until the mixture thickens, stirring constantly.
Step 3/4
Pour the cream into the springform pan and place in the freezer for 1 hour. Crumble the speculoos and mix with the melted butter. When the cream in the mold is very cold, place the crumbled speculoos mixture on top and then place back in the freezer for 30 minutes.
Step 4/4
When the cake comes out of the freezer, turn it over to remove it from the mold and then remove the shapes. Sprinkle raw sugar all around the shapes and caramelize with a blowtorch. Fill the holes left by the shapes with raspberry sauce and then eat.